22 Sep 2022
Why You Should Never Miss a Powder Day Again
Fresh powder. Rocky Mountain steeps. A pair of skis and a few friends. Meteorologist Joel Gratz lives for these days.
And with that, he created his dream company, OpenSnow. "I am thrilled that we are helping people find good snow and are educating them about the science of meteorology."
Born in Doylestown, Pennsylvania, Joel started skiing when he was four-years-old at Shawnee Mountain. His love for skiing and snow days only grew from there.
"I knew I loved weather when I turned six. Snow was my favorite because it meant better skiing and no school. As long as I did my homework, my dad would take me out of school to go skiing. There were no kids at the mountain during the week."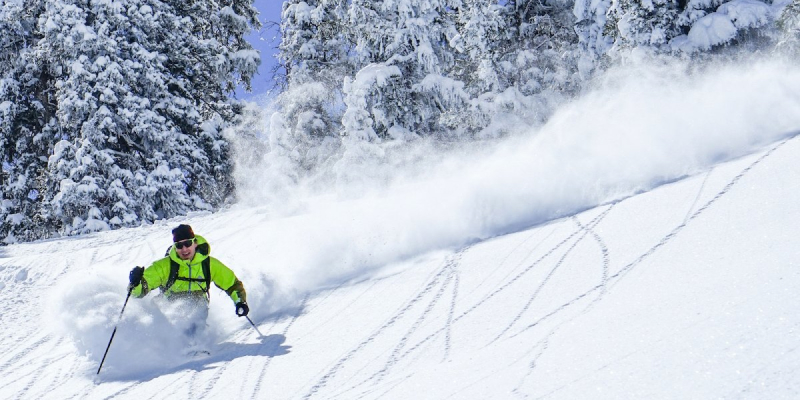 Joel began ski racing and teaching Shawnee Mountain, but sought more after his first 'real' powder day at Alpine Meadows in California. Nothing could beat that free and floating feeling. It only makes sense that Joel ended up in Colorado, home to over 15 separate mountain ranges.
"I moved to Boulder in 2003 to attend CU for graduate school in environmental studies and an MBA. I had studied meteorology in undergrad at Penn State and wanted to branch out a little bit more." Not to mention that relocating to Colorado meant unfailing snowfall and grander mountains. Joel would take advantage of every powder day he could get, although there were days that he missed due to inaccurate forecasts.
"Prior to OpenSnow, I was mad that I was missing powder days, so I decided to figure out how to forecast snow in Colorado from a selfish standpoint - so that me and my friends could ski more powder. After a while, I had friends texting me for advice, and so I threw everyone on a single email about snow that I sent out weekly. That was the start. I started forecasting snow in Colorado because I loved skiing powder.
"After two years of weekly emails, a few ski areas called and wanted to advertise. A few professional skiers took notice and shared my forecast with their friends. At that point, I realized that I might have something."
With focus, patience, and passion, Joel's side hustle steadily snowballed into a successful and flourishing business. "During the first few years, I ate a lot of pasta and I skied a lot of powder, so it wasn't a bad time at all! The main obstacle was remembering to have patience and that, with a good product, the money will come."
"It took roughly four years from when I quit my job to when I felt like the company was sustainable. I quit my day job in 2010, am currently full-time and have four full-time employees. I couldn't be happier."
The year Joel started forecasting, 2007, was one of the best winters. It shaped fond memories and a promising business plan. "It was super dry through Thanksgiving. People said the season was over. Then it snowed nearly every day of December in the northern mountains." There was a lot of snow to report and ride.
After tracking snow at every ski area in Colorado, every day of the winter since 2007, Joel affirms, "The patterns are built [into my mind]."
Joel gets to do what he loves year-round. "In the winter, I forecast, I work, and I ski a few days per week. My wife loves powder, as well, so we chase as much as we can. Summer is more relaxed, though we now have a weather app for people hiking 14ers, called OpenSummit, so there is more work to do in the summer."
Does Joel plan adventures around snow reports? "Of course! After all, I started OpenSnow because I wanted to ski deep powder. Nothing has changed!"
Joel and his employees work remotely around the country. "When there's powder, I'll work from wherever I need to before or after I ski - a friend's house, hotel, lodge, etc.
"I try to time my Breckenridge OpenSnow talks with powder days so I can get out and ski there! [My favorite memory about Breck is] rushing to get there for a 12+ inch morning. We took a few untouched laps off the T-Bar! It was super fun and such a treat to get that weekday pow."
I have to ask: Does Joel foresee a good winter in the Rockies this year? "The northern Rockies have a better chance for average to above average snow. In the central Rockies around Utah and Colorado, amount of snowfall could go either way." Joel and I are keeping our fingers crossed and getting our snow-dance on.
Joel and his team at OpenSnow put out forecasts worldwide. "Over 2 million people visit our website and our apps for iPhone and Android each season. Roughly 30% are in or interested in Colorado."
Feel free to say, "Hi," if you see Joel in the wild. His OpenSnow hoodie often gives him away. "[I'm] always up for talking weather with anyone!"
Don't miss our next powder day. Let us help you get here for the best snow and find the perfect Breckenridge rental property, even if it's last minute...