Skip the Lines and Crowds this Holiday Season
Breckenridge is a perfect place to spend the holidays with your family or friends: the mountains are covered with a blanket of snow, there is plenty of fun to be had in town or on the slopes, and the streets are filled with holiday cheer. However, this is also one of the busiest times in Breck. So read on and get prepared with our Breckenridge guide to skip the lines, avoid the crowds, and get straight to fun this holiday season.







Tip #1: Skip these lines
Is your family ready to get on the mountain but you're dreading the long lines that can be found? Don't stress – here are ways to skip 3 of the biggest lines on the mountain:
1. The ticket line
Buy your lift tickets online and skip the ticket line. If you purchase your lift tickets 9+ days in advance, you'll get them mailed directly to you. Otherwise, you can bring your ID and the credit card used to purchase them to any Express Lift Ticket Pickup location to easily grab your tickets and head to the lift!
2. The Rental Line
Need equipment rentals for your upcoming trip? Make sure you reserve your equipment online in advance, so you can quickly pick it up and go without waiting in line! Elevation Ski Rentals is the place to go, offering a great selection of equipment, knowledgeable staff, and better yet, as a VisitBreck guest you receive 30% off!
Check out their delivery and in-room fitting services to make your trip even easier!
3. The Lift Line
Yes, skipping the lift line IS possible. Book any lesson through the Breckenridge Ski and Snowboard School and say goodbye to the lift line as your instructor takes you right to the front. There's a lesson for every level of skier and rider and you can save money and guarantee availability if you book online in advance.
Tip #2: Get the best parking spot
When the mountain starts to get crowded, parking is one of the first things to go. Don't drive all over town looking for a spot. Now you can reserve your parking spot in five different convenient lots with Breck Park. Just make sure you make your reservation in advance of your trip to guarantee you get the lot you want.
Tip #3: Stay slopeside for the convienience 
Skip all of the stress of finding parking and lugging all of your equipment to the mountain by staying in one of our slopeside accommodations. When you stay with VisitBreck, you can choose from convenient ski-in/ski-out properties on Peak 7, 8 and 9.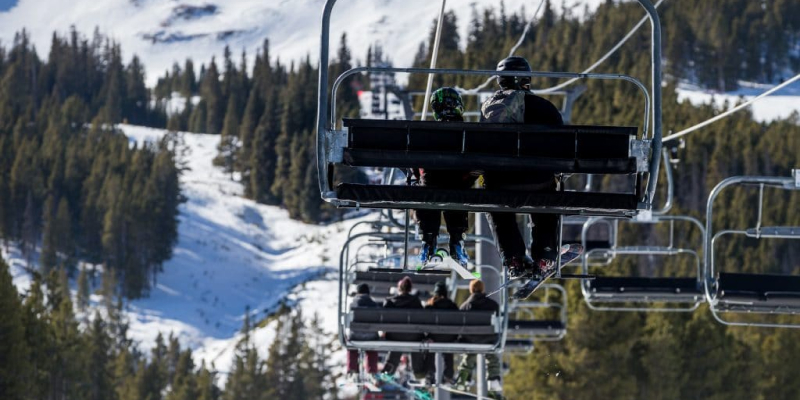 Tip #4: Avoid the lunch lines
It never fails that you or your group get hungry just as everyone on the mountain seems to be too. The most popular lunch time on the mountain tends to be from 11:30am – 1pm, and you'll definitely notice with restaurants meeting their capacity. If you can, wait a little longer for lunch by eating a big breakfast before you start your day (check out our recommendations) so you can stay on the slopes while everyone else is eating lunch.
If your hunger cannot wait, we recommend avoiding restaurants at the bases as these tend to see the most crowds. Instead, opt for a mid-mountain restaurant that can be found on every peak. Our favorites? Pioneer Crossing on Peak 7 or The Overlook on Peak 9.
Tip #5: Know before you go
The most successful ski vacations start with planning. Make sure if you need to pick up lift tickets or rentals, or if you booked a ski lesson, that you know where to go before you arrive on the mountain.
If you don't know where to start, make your way to Peak 8 where you'll find an all-encompassing guest services facility. The lift ticket windows will greet you and then seamlessly lead you to the rental shop if you need any gear. Then head downstairs where you'll find the Breckenridge Ski & Snowboard School where you can check-in for your lesson.
Don't let your trip to Breck stress you out. Prepare with these tips and spend your time relaxing and having fun with your family and friends!