The options are endless when you're shopping in Breckenridge. Whether you're looking for a gift for someone back home or treating yourself, you're sure to find exactly what you're looking for on Main Street, in one of the 200+ stores.
Shopping in Breckenridge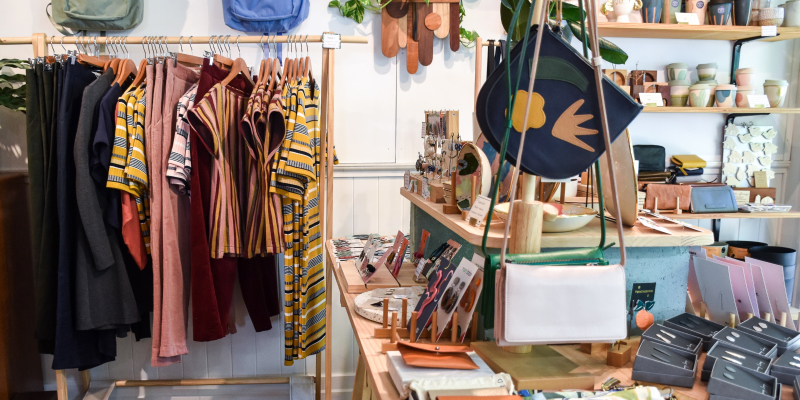 Unique botiques
124 South Main St.
You'll love this locally owned boutique in the heart of Breck offering trendy clothing, accessories, gifts, and one-of-a-kind designs from local artists.
125 South Main St.
Valleygirl is an adorable boutique with a great selection of women's clothes from casual styles to knock-out dresses. The stylish and knowledgeable staff are sure to find you exactly what you're looking for.
222 South Main St.
A variety of country chic clothing, gifts and accessories await you at Cowboys & Daisies. The owner, Donna, is the designer behind many items including the unique selection of children's clothing using styles learned during her travels around the world. For all of her children's clothing and accessories, check out her first store in Breckenridge, Young Colors.
For the art lover
124 South Main St.
Breckenridge Gallery is known for offering paintings and sculptures from many of the region's most talented artists. Claimed as one of the finest galleries in the nation, you won't want to walk by this spot.
100 North Main St.
If you want to browse more locally made art while shopping in Breckenridge, make sure to stop by Raitman Art Galleries. A family-run business, the owners pride themselves on making art and culture accessible to everyone and supporting local talent.
Everything outdoors
112 South Ridge St.
Whether you're looking for new gear before you hit the slopes or are making your next wish list, you're sure to find everything you need at this family owned and operated shop.
114 South Main Street
Why choose between getting a cocktail and shopping when you can do both? RMU is a ski shop like no other, whipping up amazing drinks and their own line of skis and other gear.
Everything else
324 South Main St.
Maybe one of the most fun stores on Main Street, Joy of Sox does in fact offer socks of every kind, but also a variety of bags, scarves, jewelry, gag gifts and games.
Marigolds Farmhouse Funk & Junk
215 South Main St.
The name says it all. You'll love walking through this family owned store with an ever-changing collection of vintage farmhouse style antiques and funky handmade accessories, all hand selected or handmade by one of the very talented family members.
Ready to plan you trip to Breckenridge? Check out these walk to town rentals, perfect for you and your group...